Overview
E-banking has revolutionized the financial sector with a plethora of digital solutions, from automating payments to fund transfers and other bank transactions. In addition, clients demand to speed up, facilitate transfers, and strengthen the security of data. This explains the vitality of choosing a reliable banking and financial software company that builds high-quality solutions delivering a premium customer experience.
We have gained a strong position in banking & financial
development thanks to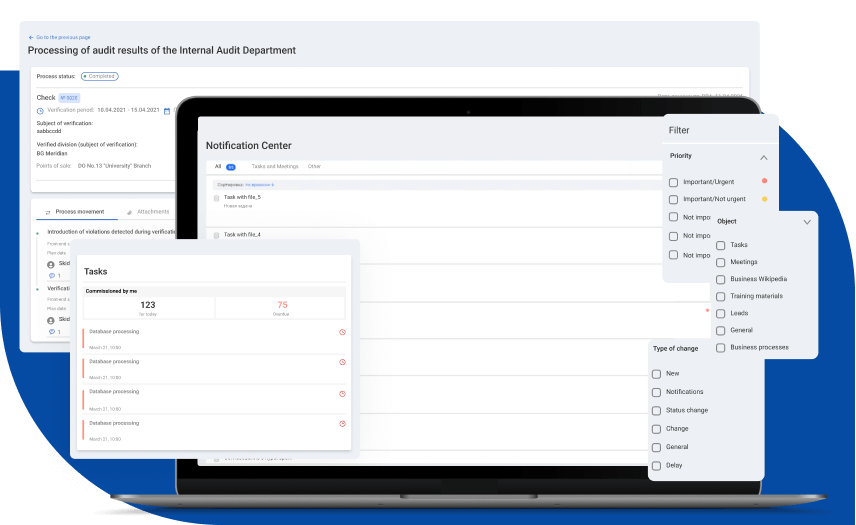 Development centers ready
to build your product
Tailor-Made Solutions for Banks and Financial Industry
GP Solutions helps businesses thrive with transformative banking & financial software development solutions designed to unlock agility, cost leadership, and operational efficiency.
We help you enhance your customer experience by reducing wait time and offering features that simplify personal banking experience, keep information safe and secure, and help you develop stronger relationships with customers.
Banks of any type as well as credit unions can leverage the power of our advanced custom solutions in line with their unique needs:
Mobile banking apps
CRM software
Payments and billing tools
Banking analytics and reporting
CORE solutions
Loyalty management software
Cloud-based solutions
And other leading-edge solutions
Compliance and risk management solutions
Our financial software development services enable companies and users to take complete control over their financial transaction data and detailed analysis for reliable financial insights.
Whether you're a startup or a corporate company, a bank or an investment firm, our specialists can offer fit-for-purpose solutions to drive your productivity and customer satisfaction:
Mobile financial apps
Online banking
Digital wallets
Blockchain & cryptocurrency
Revenue & pricing management systems
And a wide selection of other software solutions to optimize your business across the board
Banking & Financial Software Development Services
We are committed to delivering the best service to our customers. With our sharpened software development process, we work closely with your in-house team to perfectly match the client's requirements and drive the most remarkable outcomes.
Custom Software Development
For 20+ years in the IT market, we have been developing custom software for banking & finance companies around the world to help solve your business challenges and pursue opportunities unique to their businesses.
Thanks to our extensive knowledge and experience, we provide our customers with scalable, reliable, and secure custom software solutions that won't let you down.
Team Augmentation
Expand your team without the overhead! At GP Solutions, you can hire experienced specialists and reduce the total cost of your software development project while accelerating time to market.
We approach staff augmentation as a relationship, always committed to providing you with top talent and a process with checks and balances for out-of-this-world outcomes.
Dedicated Teams
Need extra force to deliver software without extra recruitment efforts? Expand your potential with our self-managed and easy-to-control dedicated development.
We can offer an assembled and unified team that iteratively creates the product with maximum speed & quality and applies an agile methodology. No hassle, no hidden fees, only results.
Post Project Support
We won't leave you hanging: trust our ongoing commitment. After the product release, we can continue to take care of your solution with regular updates as well as by constantly monitoring and fixing issues to ensure correct operations.
Our post-implementation support and recovery services help you effectively navigate those critical weeks and months after your implementation.
Fixed-price
Want to cooperate on a short-term project and already have the desired outcome in mind? We have it all worked out so that you avoid any risks and stay assured of the project's successful completion.
Time and Material
Want more flexibility and full control over the development process? Our team is ready to build complex products adjusting to any changes at any stage without much of a fuss.
Project scope:
Flexible requirements
Pricing:
Depends on man-hours, hourly rates
Technologies at the Forefront of Innovation in Banking & Financial Services
A host of technologies are working at the heart of banking and financial institutions' transformation and driving unprecedented advances in efficiency and customer satisfaction.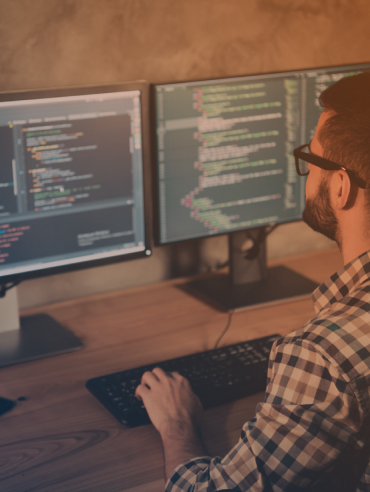 Functional programming languages:
Back-end programming
Front-end programming:
Functional programming languages:
Mobile development:
Database management:
DevOps
We harness the power of the following high-end technologies:
Blockchain
Cloud
Big Data
A.I.
Machine Learning
Low-Code / No-Code