Overview
Social media apps have long been a loyal companion in the lives of a huge number of people. Serving a plethora of functions, from communication to job search and online business, it has become a paramount part of every sphere of life like never before.
We at GP Solutions understand the potential of social networking and offer purpose-built social media app development services with timely results to power your business.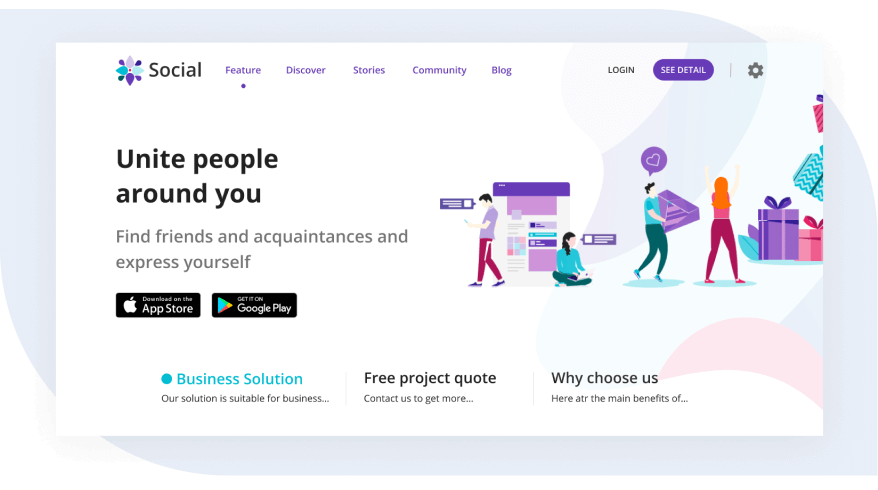 How You Benefit From Social Networking Solutions
Discover the immense power of social media and check out the benefits of social network software implementation to see why it's the best investment for business growth.
Create stronger connections with your customers
Get a detailed picture of your customers' preferences to provide responsive customer service. A deep understanding of user needs and pain points will help you produce promising products and make the right decisions user-wise.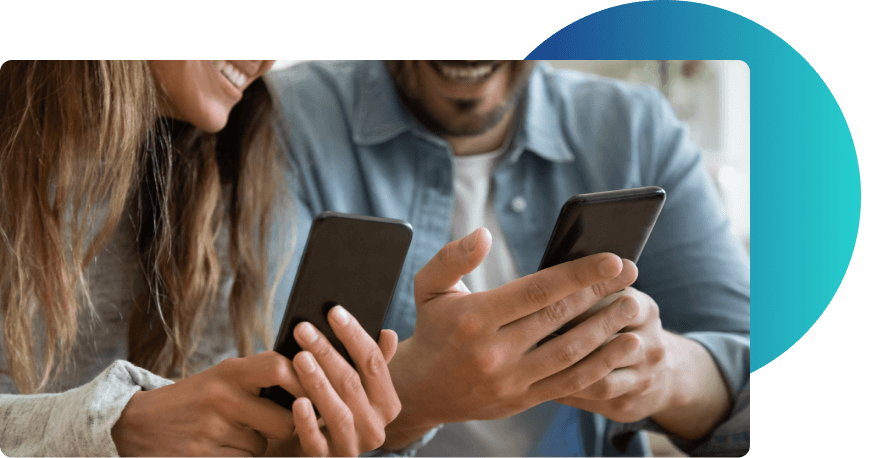 Choose from a wide range of social media solutions
Drive success and take your company's online presence to new heights with robust top-notch software solutions engineered to address your social networking challenges.
Social Networks
Have a tailor-made social network that will be genuinely yours. From the overall design to the smallest buttons, each part of your social network will be carefully designed and developed in line with your requirements.
Social Networking Modules
Enhance the existing social networking solution with a unique module serving the functions you need. With GP Solutions, you can create a stunning social networking app able to fulfill your needs and drive great value.
Messaging Applications
Enable your employees to collaborate efficiently or build a future-proof mass-market messenger. GP Solutions can take care of any challenge and help you build the right messaging app to align with your business goals.
Promotional Solutions
Incorporate social media into your promotional strategy and reach out to your customers at scale. Take advantage of detailed and granular user information to increase engagement and improve conversions.
Digital Expos / Marketplaces
Tap into GP Solutions' social media app development services and boost your online purchasing figures and consumer interest levels. Our team can help you deliver a unique shopping experience and soar above competition.
Data Scrappers and Aggregators
GP Solutions helps automate the entire social media scraping process and collect data from this source in real-time. What you get is enhanced sentiment analysis, improved audience engagement and business strategy.
In-Depth Integrations
You can expand the reach of your content and enhance your marketing efforts by integrating a social network into an existing solution. By doing this, you will make your social media website or app more interactive and expand your social following.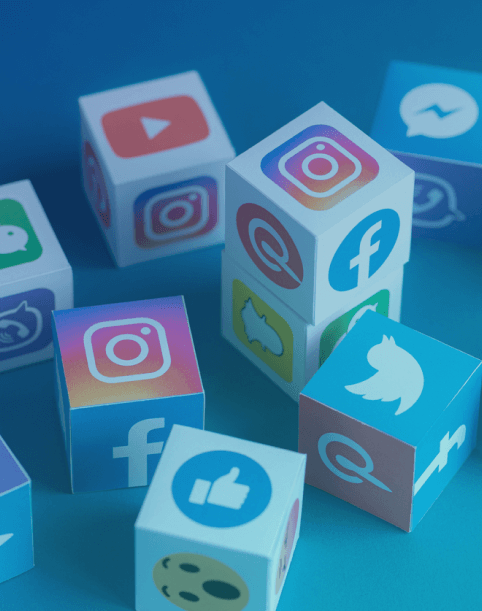 Planning to implement a unique social media app?
Our software development services are set to deliver 100% tailor-made solutions that meet diverse custom requirements.
How We Approach Social Media App Development
From new social networking app development to optimization of existing solutions – our experts assist in building powerful tools that reach out to target audiences. All thanks to our established development process covering every key aspect of software delivery:
Extensive Expertise in Relevant Technologies
Only modern and productive know-how in our stack!
The libraries, frameworks, programming languages and tools we use drive successful implementations regardless of project scale and complexity.
Front-End Development
Back-End Development
Architecture Development
BA & Discovery
Integrations
UI & UX Design Service
Mobile App Development
Support & Maintenance
Front-End Development
Front-End Development
Engage our specialists to create hing-end user experiences, powerful functionality and stunning designs. It's your way to enhance brand identity, gain a competitive edge and recognition on the market.
Back-End Development
Back-End Development
Our team of expert back-end developers delivers robust solutions helping to achieve the highest business ambitions. Our back-end software is high-performing and well-suited for processing large volumes of data.
Architecture Development
Architecture Development
Design and develop future-ready software architecture with GP Solutions!
Our team will ensure solid foundation for your social media app through optimal software layouts composed of only purpose-built functional elements.
BA & Discovery
BA & Discovery
Make your business more sustainable by identifying any bottlenecks affecting performance. Our business analysis service allows to eliminate functional gaps and meet your expectations and requirements.
Integrations
Integrations
Leverage our extensive experience in profound and systematic integrations of 3rd-party solutions. We develop functional middle-ware that efficiently combines scattered individual assets into a unified whole.
UI & UX Design Service
UI & UX Design Service
Remarkable digital experiences require remarkable craftsmanship. Our web-design experts create sleek and stylish UI/UX implementations that are intuitive and highly engaging for the end user.
Mobile App Development
Mobile App Development
Let our mobile application developers take your infrastructure a step ahead in quality. We build mobile apps with supreme UI and performance, helping you stay relevant and competitive on the market.
Support & Maintenance
Support & Maintenance
We'll take care of the uptime and security of your application. Our software maintenance offering covers all custom solutions we build, keeping your infrastructure fully operational and secure.
We Allocate Tech Experts Matching Your Goals
GP Solutions remotely allocates seasoned professionals experienced in social network software development. They always stand by to bring in tight hands-on skills and vast technical knowledge to elevate your project to new heights.
Just choose the service
format you prefer:
Team Augmentation
We can provide you with the temporary workers you need to get the job done, without the hassle and expense of hiring them full-time. GP Solutions handpicks the best-suited candidates for your project following the steps below:
Requirements analysis;
Provision of CVs;
Interviews;
Candidate approval and confirmation;
Agreement and onboarding.
Dedicated Teams
Take advantage of our huge knowledge pool when you need our team working permanently on your project. Hire a dedicated team that can consist of:
Front-end/back-end developers,
QA specialists,
Project managers (PMs),
System architects,
System administrators,
Business analysts, etc.
Prime Features We Can Embed in Your Social Media Apps
Making a social app successful requires lots of features dependent on customer expectations. The software we build may come in with a varied set of features depending on the given technical and functional requirements:
Authorization
Privacy and Security
Location Based Service
Messaging
Notifications
Influencer marketing
User Profiles Creation
Online ordering
Social media platforms integration
Photos and Videos Uploading
Social Sharing
Mobile payments
Search Bar
Live Streaming
Chatbots
Groups
News Feed
We Deliver Outstanding Results
Being a reliable and trusted IT partner, we understand the needs and requirements of social media market. Besides that, each of our customers can be sure we can provide:
Sophisticated Technology
We keep up-to-date with cutting-edge tools and technologies to offer highly advanced solutions. Leverage our capabilities to better upgrade and reinforce your business models with leading modern technology offerings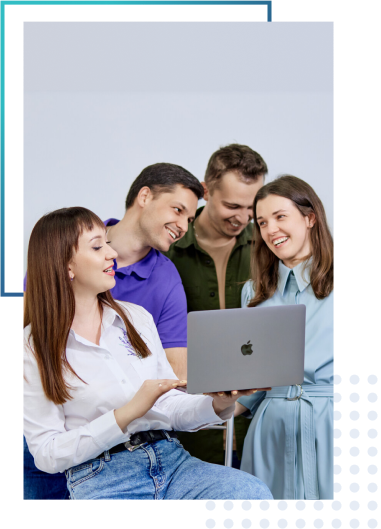 Professional Team
Our developers are well-versed in building clean, high-performance code. Deep technical and industry expertise allow us to create successful software products that prove to stay on-demand in the market.
Future-Proof & Tailor-Made Solutions
Our development team creates digital products and services fit for the future. Whether they're building engaging web experiences or performant multiplatform apps, our experts will bring your vision to life.
Proven Track Record
GP Solutions focuses on digital solutions that really make a difference there and then. This helped us build trust with our clients and get recognized in the world arena as a reliable software company.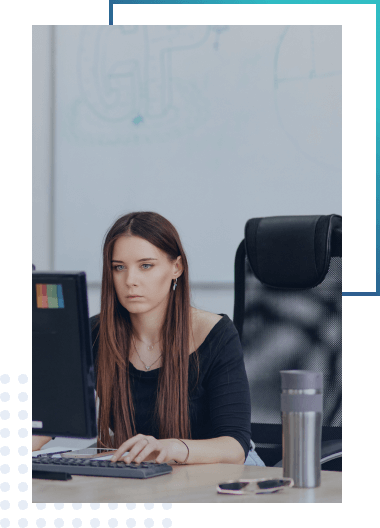 Scalability and Growth
We completely understand the significance of growth chances and continuous variation in businesses. Hence, we build solutions that accommodate expansion and ensure advanced efficiency.