Communicate more efficiently via custom messaging apps
Messengers have long been the main communication channel for many people around the world. Therefore, a reliable messaging app which provides fast and secure communication should be an integral part of today's omnichannel business strategy.
Real-time communication, responsive interface, advanced features – GP Solutions puts it all right in your hands with the highest level of security, protecting and guarding your data round the clock. Our team builds a wide range of custom text messaging apps to deliver personalized solutions in line with specific business needs and goals.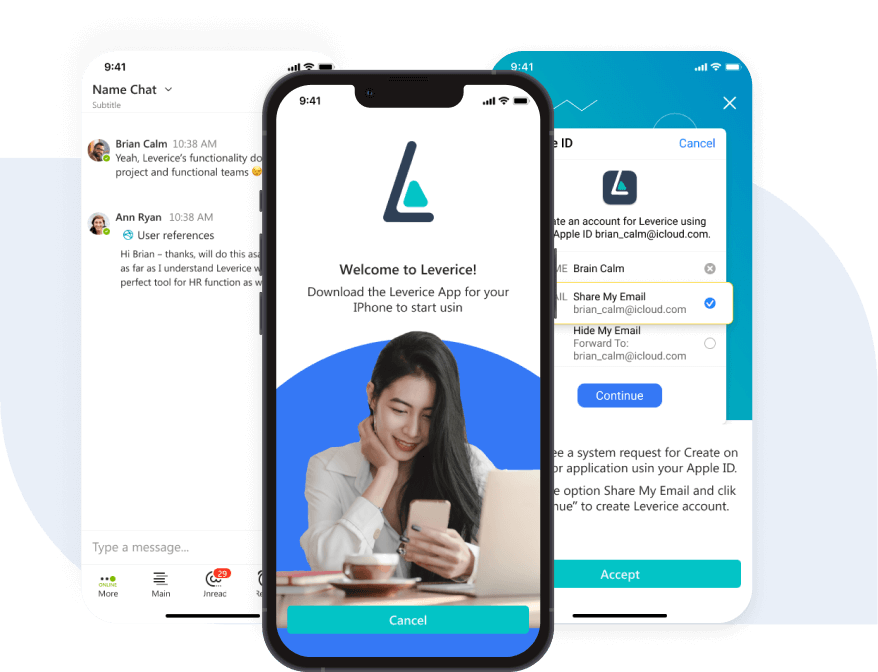 Build Up Your Community with Our Messengers
Maintain contact over long distances, boost employee productivity, deliver superior customer service… We build reliable messengers to help you reach all these goals and more.
Corporate Messengers
Mass-Market Messengers
AI-Powered Chatbots
Project / Team Management Communication Platforms
Unique Messaging App Concepts
Corporate Messengers
Corporate Messengers
Enable your employees to collaborate, chat and share work in real-time across departments and borders. With our corporate messengers, you'll improve teamwork, secure communication, and reduce communication costs.
Mass-Market Messengers
Mass-Market Messengers
Leverage GP Solutions' domain expertise and tech proficiency in building mass-market messengers that users love. From idea refinement and technical cornerstone to design – we'll take care of everything.
AI-Powered Chatbots
AI-Powered Chatbots
Our tech engineers are ready to build responsive AI-powered solutions and facilitate your customer support across the board – from reduced time and human resources to timely problem-solving.
Project / Team Management Communication Platforms
Project / Team Management Communication Platforms
GP Solutions can go beyond a simple messaging app by designing fully-featured communication platforms that centralize information and enable team members to share responsibilities, assign project-related tasks and quickly seek additional information or help from colleagues.
Unique Messaging App Concepts
Unique Messaging App Concepts
Tap into our services to embed your app with unique features to make your personalized product stand out in the market. These can include unique architecture, communication structure, integrations with third-party systems, and much more.
We Deliver Custom Messengers for Various Business Domains
We have worked with 300+ clients in the past 20 years across various industries resolving communication complexities with optimum software solutions.
With the help of our messaging and communication apps:
IT and software development companies can streamline their processes and enhance client services;
Education / e-Learning organizations are provided with efficient tools for teacher-student communication, ensuring a more interactive learning process;
Travel and hospitality companies obtain solutions that help bring in better customer service to stay on the same page with the clients;
Startups can drive workflows and keep things organized while staying focused on their key business goals;
Legal practice organizations handle on-going matters in a more swift and structured way, driving more engaged and immersive business processes;
Distributed development teams can skyrocket team productivity and connect seamlessly with each of its members.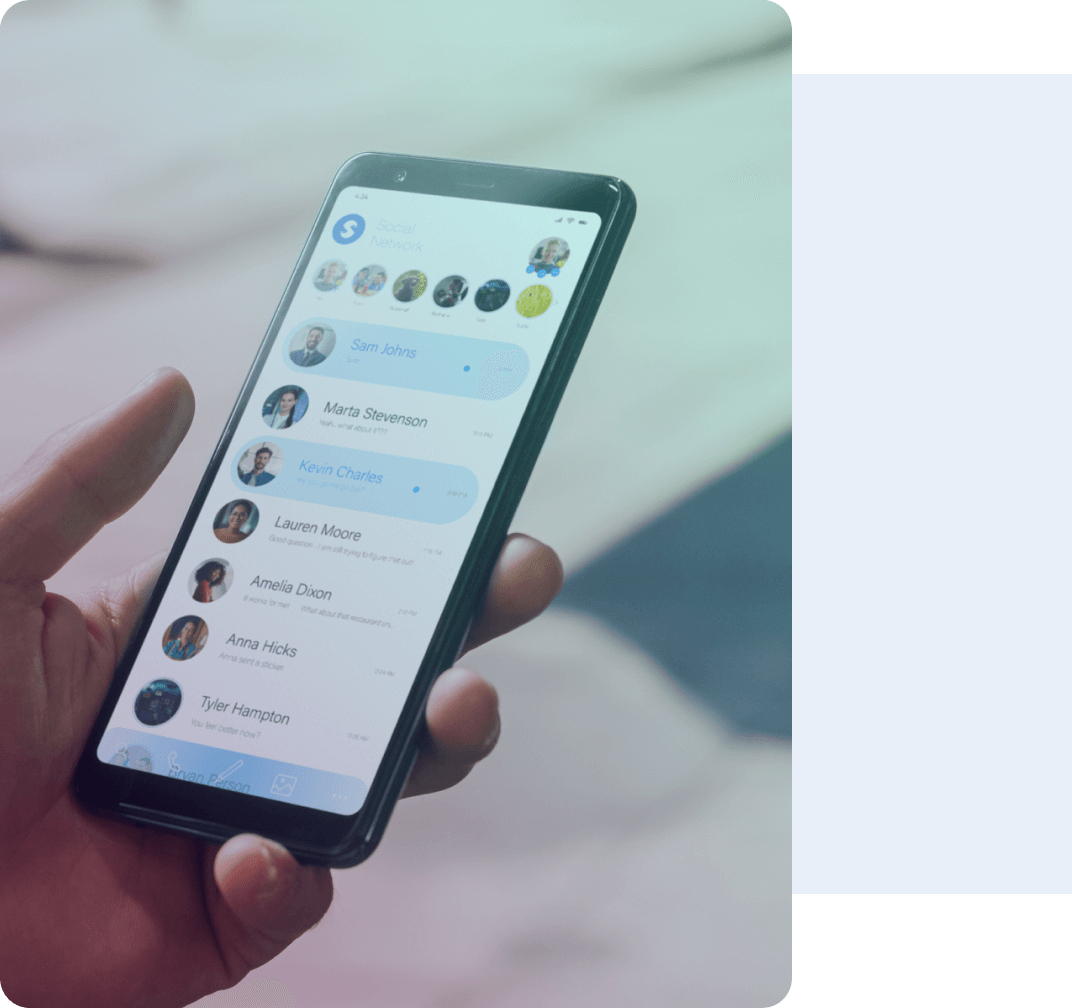 Key Features of Our Mobile Chat Apps
Mobile messaging apps built by GP Solutions are delivered as a full package of solutions and features needed for day-to-day operations.
Group Chat Option
Drive real-time engagement with group chat features. Use your chat app to promote more group talks and discussion and drive better communication and user engagement.
Whiteboards
Take advantage of efficient tools to let your remote teams bounce ideas off one another and brainstorm them in real time.
Security & Privacy
Build the most secure chat messaging infrastructure. Privacy, security, and reliability are our focus and promise.
Backup & Storage
Store all the necessary data and keep it up-to-date with an option to recover at any point of time.
API
Drive higher engagement, more transactions, and better business outcomes with the most feature-rich and flexible chat platform embedded into your app.
Notifications
Alert your users with a push notification on every critical event or change that takes place. You can also encourage less active audiences to get back to your app and resume previous chats.
Enhance Your Messaging Application with External Systems
Integrate third-party systems into your chat app and provide users with more functionality. Our experienced integration team can get your messaging app connected to:
Project Management System
Analytical System
Payment Processing Systems
… and many other tools you may need.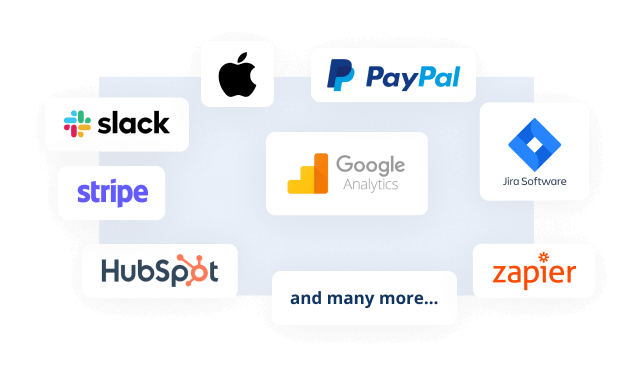 Monetize Better Through Your Messaging Application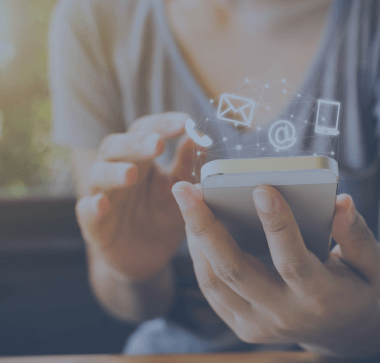 At GP Solutions, we know how to build chat apps in a way that brings profit. We can help you drive more income via:
Instant in-chat payments
Pay-per download arrangements
In-app payments
Sponsorship programs
Chatbot integrations
Subscriptions
In-app purchases
Content Merchandizing
In-chat advertisements
and many more…
Team Messaging and Collaboration Platform for an Ambitious Technology Startup
One of our impactful project deliveries which has helped our client – an ambitious German technology startup – is a team messaging and collaboration platform with a unique structure of channels. Take a glimpse of how we helped to build a system that surged employee productivity rates for lots of modern and innovative businesses worldwide.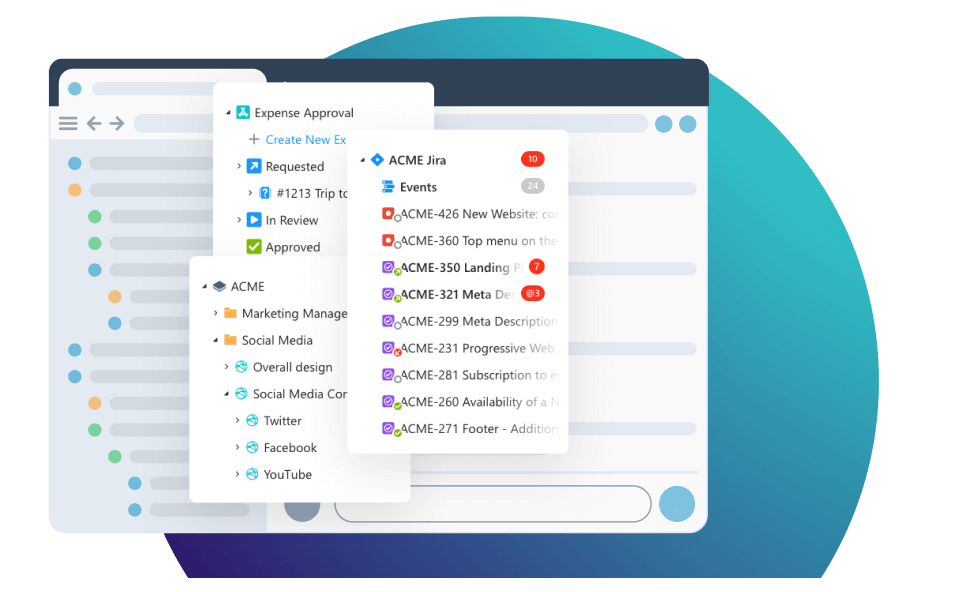 Our Mobile Messaging App Technology
We focus on the latest technology to help our clients design and develop future-proof and secure custom mobile chat app software centered around business needs and goals.
iOS Apps
Progressive Web Applications (PWA)
Android Apps
iOS Apps
At GP Solutions, we build and deliver iOS communication apps based on native programming languages for superior performance. Our production values and services align with Apple's philosophy of sustaining highest productivity and usability standards.
Progressive Web Applications (PWA)
GP Solutions' web app developers will help your organization create communication software that is bound to satisfy all users. Our custom web design and web app development come with high levels of usability, scalability, and compatibility, making user experience across different browsers and devices consistent.
Android Apps
Our software engineers design applications with strict attention to detail and bearing in mind every peculiarity of the operating system. They take care of the application's compatibility with all Android versions and devices so you can be sure your users enjoy a top-notch experience.
Our development tech stack
We choose high-end programming languages, database solutions and server-side technologies to suit your product performance requirements: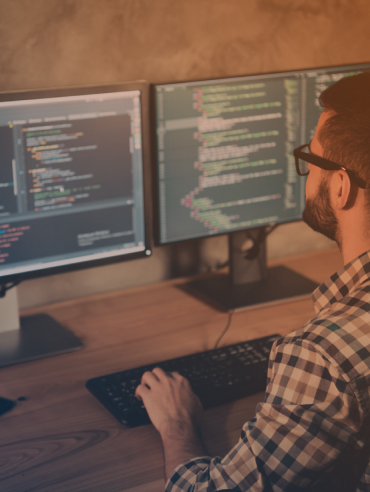 Functional programming languages
Back-end programming
Front-end programming
Functional programming languages
Database management
DevOps
Why our chat apps help you soar over the competition:
There's no doubt a well-built messaging application has all the potential to drive tremendous value to your business. That is why our well-versed engineers consider each aspect to provide you with the maximum benefits:
Scalability
At GP solutions, you choose a solution that scales with you. As your user base grows, you'll be able to scale up your messenger with no worries about user fluctuations or concurrency limits.
High Performance
Stability under all conditions is crucial for delivering a supreme user experience. With GP Solutions, you can rest easy knowing that users will not experience performance issues, even at peak traffic times.
Reduced Time and Money Expenses
Tap into our custom mobile chat app development services to reduce business costs and save money. With automation, 24/7 availability, and increased team productivity, you can cut down ongoing expenses.
Security
Our apps meet all compliance requirements, ensuring that the data of those using your app is protected. What's more, the in-app messages are encrypted to avoid cyberattacks and data thefts.
Multilingual Support
Engage your customers all around the world by offering communication interfaces in multiple languages. This feature is critical to personalize customer journeys for a multilingual audience.
Prompt Decision-Making
Be in touch with the people you need, solve problems timely, and achieve the same goals in the shortest possible time. Instant messaging apps are the greatest tool for remote teams to be able to sort everything out promptly.
Responsive Design
User-friendly designs allow us to create a convenient and easy way for users to access and keep track of messages from various platforms without getting overwhelmed.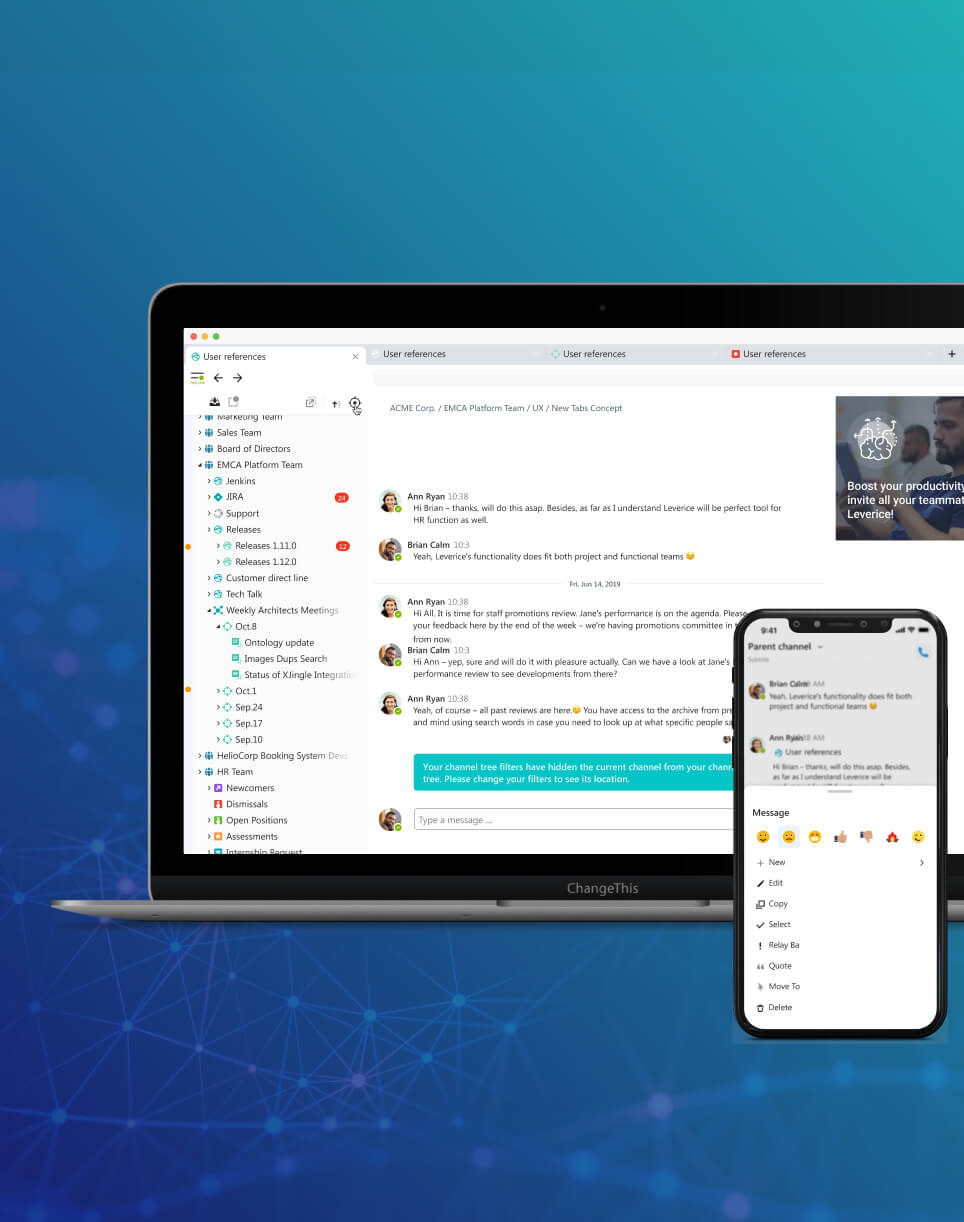 Our Chat App Development Process
With over 20 years of refinement, our proven holistic approach has enabled us to effectively deliver sustainable software projects that drive value. A full communication software development cycle boils down to 7 crucial steps:
Discovery and Business Analysis
Front-End Design and Development
Click here to explore how we deliver human-centered products that drive your business forward.
We provide business-friendly cooperation options to choose from. Go for the one adjusted to your expectations and the product created.
Fixed-price
Best suited for
Have a short-term messaging app project in mind with precise goals and requirements? Our team of tech engineers is ready to help you out by realizing all your ideas within the specified time and pricing limit.
Duration: 
1 to 3 months
Project scope: 
Fixed
Pricing:
Fixed
Time and Material
Best suited for
Looking for a flexible model with greater control over the communication app being built? We can promptly embark on your project adjusting to all your requirements along the route to achieve better outcomes.
Duration: 
3+ months
Project scope: 
Flexible requirements
Pricing:
The number of man-hours multiplied by hourly rates.
You've come to the right place
Our team is well-versed in building custom text messaging apps according to different customer requirements. But what sets us apart is our ability to do so in ways that beat the competition and add the greatest possible value to your business. By moving forward with GP Solutions, you get:
100% tailor-made
solutions
We immerse ourselves in your business to identify your unique needs. We help set your business up for success by turning insights into strategies, designs, and, eventually, effective and scalable custom messaging apps.
Real-time support
You can rely on our constant support along the entire path of project completion. Should any questions arise, our well-versed specialists are one click or call away – we do our utmost to assure you everything's going as planned.
Service from a reputable vendor
With over two decades of experience in delivering result-oriented communication software development services to our global clients, we are marking our journey of success. We are:
One of the Top 100 Global Outsourcing providers of 2017
A provider of the Best IT Solution for Tour Operators 2014
A development company listed in the Top 50 Web & Software Development Centers in Eastern Europe
ISO 9001 Certified Quality Management
One of the winners of Accredited Top Software Companies 2020
On-time delivery
We pursue a golden scope-deadline-quality balance to avoid any delays and provide chat app development services on time. Our formula is an easy one – we focus on quality checks, communicate with our clients, and alter products timely to keep our promises.
How long does it take to develop a mobile app?
In general, it takes around 3-5 months to develop an MVP of the chat app with basic functionality. Later the app may be refined and updated with new functionality. Nevertheless, each platform presents its own unique obstacles and requires a different time frame. That's why the number of hours will vary depending on your requirements.
What's the average cost of messaging app development?
This question is strictly individual and needs to be discussed on a case-by-case basis. Cost estimates vary depending on the level of functionality and design requirements, as well as deadlines. Contact GP Solutions and we'll calculate together how much your messaging app development will cost, considering your ideas, needs, and budget.
Why should I choose GP Solutions for chat / messaging app development?
GP Solutions is a long-standing software development company empowering businesses with secure chat apps. Since 2002, we have been delivering top-quality solutions on time and on budget. Such profound experience as well as a proven track record have allowed us to gain the trust of organizations from various industries.
I need to create a custom messaging app. How will GP Solutions approach the development process?
At GP Solutions, we start by collaborating with you to clarify your needs and explore your options. Taking up a holistic approach, we consider everything, from market and user needs to unique differentiators. Then we work together to build your solution, delivering value quickly without surprises, so you can be confident in your investment.