Enterprise software solutions are designed to accumulate data organization-wide, automate interdepartmental processes, enhance communication within the company and between the enterprise and its customers and partners, as well as deliver optimal performance to many simultaneous users. GP Solutions specializes in the development of such sophisticated software whatever business processes it regards, including ERP, CRM, HRM, accounting, security, etc.
Our Enterprise Software Development Services
With more than 20 years in the tech industry, GP Solutions designs and redesigns, develops, and integrates enterprise software for large businesses around the globe. We offer a full range of custom enterprise software development services, from consulting to development and support.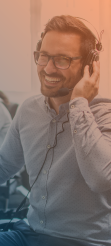 Maintenance & Support
If you already have an enterprise system, we can introduce the needed updates. Experienced in working with sophisticated solutions, our team can make sure that yours stays reliable and highly available over time. We provide 24/7 online support via the communication channels convenient for you.
Technology Consulting
Find an optimal solution for you, automate your workflows, or discover new ways to make business processes in your enterprise more efficient.
Mobile Application Development
Let your employees be in the know of what's going on in your firm wherever they go with a corporate mobile app. Improve collaboration, give your mobile workers powerful tools to work with, and manage your mobile workforce with robust branded mobile apps.
Custom Enterprise Software Development
Leverage digital transformation and get your unique enterprise software developed from scratch or customized exactly for your needs.
Data Management
By applying our experience in data management, we can help your company start using data efficiently and in line with all regulations. The GP Solutions team can implement a complete data management solution, including data integration, data storage, data quality management, and more.
Software Integration
Our experts can enable automated information flows between your enterprise apps and systems. As a result, you will make your teams and departments more efficient by syncing data in the tools they use in real time.
Digital Transformation Services
Do you want to apply top-notch technologies to make all areas of your business more effective? GP Solutions can help you enhance your business processes and deliver more value to customers using digital technologies.
Web Application Development
With 20 years of experience, our team can design, build, and enhance your web software, be it an intranet, a corporate website, a customer-facing web app, or another product.
Custom Enterprise Solutions
Сustom Enterprise Solutions are designed to provide visibility into all the processes, allow your company to improve performance, security, reporting, as well as gain a competitive advantage through more effective usage of the available data and resources. GP Solutions applies its vast industry knowledge and domain expertise to design and build landmark custom systems for your company.
CRM
ERP
Enterprise Networking
Information Security
Billing and Accounting
Performance Optimization
Remote Workforce
CRM
CRM
GP Solutions creates custom CRM software to automate your marketing, sales, and customer service activities and workflows, enhance planning and reporting, and in the end improve customer experience, increase lead conversion and upsells. We will help you to choose the most appropriate platform (if needed), customize and configure it to perfectly fit your processes.
ERP
ERP
Our team can help you obtain a unique tool for efficient planning and distribution of resources within the supply chain, enhance data flows, and cut costs. Depending on your needs, GP Solutions can deliver a multi-module ERP, including the functionality for accounting, HR management, production management, sales and marketing, project management, supply chain management, data analytics, and more. ERP software can be installed on the client's premises or using the SaaS or hybrid model.
We've had tremendous success with GP Travel Enterprise, our custom ERP, and know how to let you achieve the same level of efficiency with yours ERP.
Enterprise Networking
Enterprise Networking
With the GP Solutions team, you can securely interconnect your people, devices, and apps with an enterprise network. We will help you achieve maximum data security, high network speed, and visibility. Use top technologies to scale network connectivity as the number of users and devices grows and apply advanced analytics to troubleshoot faster and predict and prevent issues.
Information Security
Information Security
Ensure your data, apps, products, and infrastructure are safe against cyberattacks, data leaks, or thefts. We can help you choose the right security solution and configure it to your needs. We guarantee development in line with the international quality and security standards, as well as the latest worldwide regulations.
Billing and Accounting
Billing and Accounting
You can achieve maximum accuracy and efficiency in your finances. A tailor-made accounting solution will help you solve your particular accounting tasks, such as payables and receivables management, asset and inventory accounting, processing of invoices, payroll and tax management, financial data consolidation, financial reporting, etc. Along with building custom accounting functionality, GP Solutions can enable real-time data to sync with other enterprise software that you use.
Performance Optimization
Performance Optimization
From building custom productivity apps to automating your workflows and enabling decent reporting, GP Solutions can create a custom tool to boost employee performance at the enterprise level. Equip your team with handy time management apps, enable smooth collaboration between departments, improve planning, automate tasks, or get any other app to make your team productive.
Remote Workforce
Remote Workforce
The pandemic forced companies to participate in the remote-work experiment. The stats show that efficient remote-work processes bring companies a lot of benefits. That's why tools for managing remote employees are booming now. We can build a complex enterprise solution to make your hybrid or completely remote team more productive. You will get more visibility into working processes, the ability to analyze and find inefficient workflows, simplify remote employee onboarding, improve team collaboration, and more.
Enterprise Software Development Lifecycle
As a full-cycle software provider, GP Solutions adheres to industry best practices and development methodologies throughout the software development workflow. A project usually goes through the following 5 stages:
Click to learn in detail how we deliver enterprise software putting your needs and gains first.
We Use Top-Notch Technologies to Your Advantage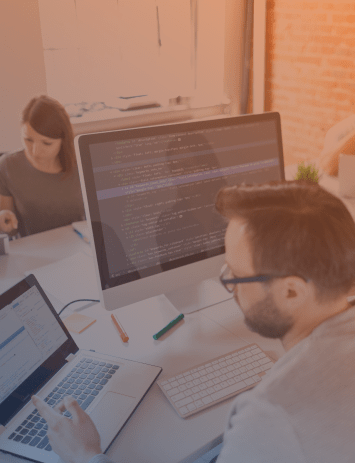 Languages, frameworks, platforms
AI-based algorithms help us create solutions that give you more insights from Big Data, let you automate almost any process, and give your teams powerful tools for error-free decisions.
Our Cloud solutions powered by Microsoft Azure, AWS, Google Cloud can transform your digital business environment into a flexible and powerful work assistant for your employees. By moving to the Cloud, you cut costs and gain full connectivity and synchronization among your employees and processes.
With GP Solutions, unlock the benefits of blockchain and protect your critical business data, become an owner of a blockchain-based marketplace, apply smart contracts, and more.
Another emerging technology in Data Science, Big Data can let you access a new level of business intelligence, get valuable insights into business opportunities and customers' preferences, create indeed smart bots, leverage strong cybersecurity, and more.
For our enterprise solutions, we use the most reliable languages, frameworks, and platforms suitable in your particular case. To give a few examples, we often use Java, JavaScript, C++, C#, Python, Kotlin, Microsoft Azure, AWS, Google Cloud, Appian, Mendix, OutSystems, QuickBase, Xamarin, Salesforce AppCloud, and Microsoft Power Apps, and many more.
What does the enterprise level mean?
Enterprise software is created to satisfy the needs of large-scale organizations, such as a governmental agency, a hospital, a school, a tour operator, an IT company, and others. It can cover one or many business functions, including accounting, customer relationship management, resource management, and more. Enterprise software has to be secure, scalable, and high-performing even when the number of users grows.
What are the top platforms used for enterprise application development?
The most popular platforms for developing software at the enterprise level are Microsoft Azure, AWS, Google Cloud, Appian, Mendix, OutSystems, QuickBase, Xamarin, Salesforce AppCloud, and Microsoft Power Apps.
How much does enterprise software cost?
The total cost of your enterprise software depends on the number of users, required functionality, and integrations. Schedule a call with our team to get a more precise price estimation.
How will enterprise software benefit my business?
Enterprise software allows you to automate routine tasks, start using your resources more efficiently, get insights from your data, cut operating costs, standardize processes, enhance security, and grow your business.
When should I adopt enterprise software for my business?
You should definitely consider migrating to a custom enterprise software if:
Your current software doesn't protect confidential data well enough.
Time-consuming manual tasks cause human errors.
You are tired of performance issues.
Your company is growing, but your software can't keep up with the increasing amount of data.