Overview
Software development services are in high demand in all major today's business fields. Even the most experienced and reputable software providers resort to outsourcing when it's worthwhile. Sometimes it's due to resources limitation, but in fact, time-to-market optimization is the strongest reason, being crucial for a successful IT business. To withstand international competition, software developers must deliver their product within the shortest possible time, what makes many well-known IT giants constantly search for their excellent technology partner.
How we can help
Outsourcing software development has truly become a usual business practice for thousands of companies worldwide. It is also incidental for technology companies, especially when they need deeper expertise in a specific domain which their employees don't possess. If that's the case, software providers would rather benefit from the lore of developers who have already mastered their skills working on similar type of projects. This model of software development services is often preferred even by large IT companies for its optimal efficiency and development risks reduction.
Outsourcing is commonly perceived as a considerable cost-saver, but it's equally true that quality always comes at a fair price. Who needs cheap labor when the competition on the market is won by quality and innovation? What's the use of a low-budget offshore team when it fails to accomplish the project or literally "buries" it under too many bugs? Consider it when choosing the best partner for software outsourcing and look for a company that you can relate to, with the same business ethics and well-tuned business processes.
We offer great quality software development services at a favorable price. Our specialists have already been working with a big number of international software providers, and we are willing to offer you the experience and knowledge we gained in the last decade.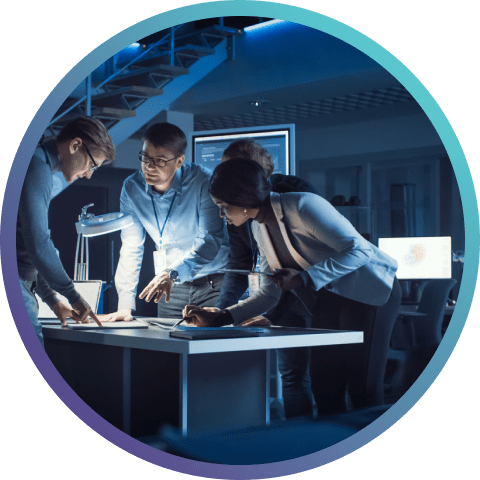 Team excellence
The number one reason why we are the offshore software development company of choice for a wide variety of clients from different industries is our development team, composed of more than 200 highly skilled and specialized professionals. People are company's biggest asset. That's why we're constantly working on improving employee satisfaction and relationship-building, which leads to healthy and creative working environment.
Flexibility and individual approach
Our extensive experience in the software development led us to understanding that no two clients have the same challenges. Our main advantage is flexibility in choosing the right approach to meet your key business objectives. We are ready to catch your idea or project on any production stage (from business analysis to implementation and QA) and doing our best – bring it to perfection.
Reputation
ISO 9001 Certified Quality Management
Resident of High Technology Park
Listed in the 2014 Global Outsourcing 100
Among Top 15 Web&Software Development Centers in Belarus
Trusted by world-known brands ( Tallink, IQcard, Versonix, Air Canada Vacations and many others)